1
Backcountry skiing at Rogers Pass started in the late 1930's, early 40's. People had been skiing at the top of Mt. Revelstoke since the 1930's, as Mt. Revelstoke could be climbed easily from town. To get to Rogers Pass, one had to take the train, but there were many passenger trains each day.
2
Skiing up the Illecillewaet valley, Glacier National Park
1939
Glacier National Park, British Columbia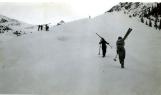 Credits:
Barbara Vigue

4
There was an avalanche control program stationed at Rogers Pass in the 1950's before the Trans Canada highway opened. The program was run by Fred Schleiss and his crew needed to be competent on skis. Noel Gardner worked in the avalanche program at Rogers Pass and would come to Revelstoke on weekends to give lessons on Mt. Revelstoke.

Hans Gmoser did much to promote backcountry skiing in general and skiing at Rogers Pass specifically. He filmed backcountry skiing and mountaineering adventures in the 1950's and '60's and would take his films around North America, drumming up interest in his ski company which would eventually become the largest heli-ski company in the world. Hans would come to Revelstoke annually to show his films and he always had a good reception in the town.

After the highway opened in 1962, there was much easier access to Rogers Pass though the numbers of backcountry skiers there didn't start to soar until the 1980's and 90's. By the 1980's, backcountry skiing had become a popular winter activity which continues today. Backcountry ski enthusiasts explore in all directions around Revelstoke. Rogers Pass continues to be an international draw because of its snowfall (amounts up to 12 meters can fall in a season) and for the fact that it is in a National Park.


5
Backcountry skiing at Rogers Pass
2004
Glacier National Park, British Columbia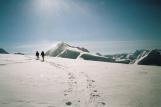 Credits:
Nancy Geismar

6
Backcountry touring, Akolkolex River
2002
Akolkolex River, south of Revelstoke, British Columbia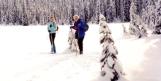 Credits:
Catherine Sinclair

7
Backcountry Touring, Tangiers River
2002
Tangiers River, east of Revelstoke, British Columbia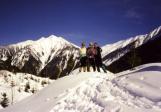 Credits:
Catherine Sinclair

8
Revelstoke is also known as a snow mobile capital and many backcountry skiers have combined the snow mobile with ski touring: using the snow mobile to access terrain that would be too far to ski to in a day, but then enjoying the powder turns on their skis that they bring along.

Stuart and Sandy McCrae talk about "truck" skiing in the 1960's, when they would drive a truck up a logging road in the Boulder Mountain area with their skis, 3 people would ski down and whoever drew the short straw would drive the truck down. Everyone would alternate through being a driver for one run.

There have been many creative ways to access the beautiful, deep powder snow in the environs of Revelstoke.

9
Ski-doo assisted backcountry skiing
2002
Tangiers River, east of Revelstoke, British Columbia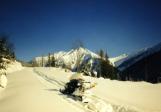 Credits:
Catherine Sinclair