1
Bralorne and Pioneer were isolated from the main centres in the province, being Vancouver, Kamloops and Lillooet. When early lode mining was started in the valley it was a long and difficult journey to get to and from the mines, sometimes taking days for a round trip.
2
When the mines first opened in 1915, the standard route in from Vancouver was via Union Steamship Line to Squamish, train to Shalalth, then stage journey over Mission Mountain and up the Bridge River Valley to Gold Bridge and beyond to Bralorne and Pioneer. The total travel time was 14 hours.
3
The start of the road over Mission Mountain was in 1926 with the B.C. Power Corporation having a view to the power potential of the Bridge River.
5
The first cars in the valley were loaded onto Frank Durban's scow at Craig Lodge at the Lillooet end of Seton Lake and towed the length of the lake to Seton. From there they were off-loaded and continued on by car over Mission Mountain.
6
Marshall's Ferry taking automobile the length of Seton Lake to off load at Mission Mountain.
1930
Seton Lake near Lillooet, B.C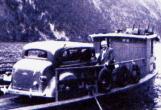 7
Marshall's Ferry replaced Frank Durban's scow as a means of tranporting the cars down the lake to Seton. By 1935 this service was discontinued.
9
The P.G.E. (Pacific Great Eastern railway) installed a gas engine flatcar service at Lillooet to take over this transportation of cars to Shalalth in 1935.
11
South Fork Bridge at Gold Bridge was washed out by a flood in November of 1940. This was the only way into Bralorne and Pioneer from Lillooet, except for the trail over McGillivray Pass as was done in 1898 with the earlier settlers such as Arthur and Delina Noel.
12
Reopening of the South Fork Bridge after flood in Nov. 1940.
1941
South Fork Bridge, Gold Bridge, B.C. Canada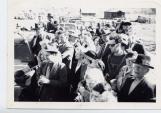 13
Reopening of South Fork Bridge after the flood in November, 1940.