15
A rededication ceremony was held in 1941 with Bill Davidson, Will Haylmore, Curly Evans, Mr. Pelletier and Mr. McMasters in attendance.
16
Alva Lucille Warden at graduation from Royal Columbian Hospital Nursing Sept. 1953
September, 1953
Royal Columbian Nursing Hospital, New Westminster, B.C


17
A devastating plane crash in October, 1953 at Cheakamus Mountain outside of Squamish, B.C. took the lives of a young nurse, Alva Lucille Warden, the injured miner whom she was accompanying, two other passengers and the pilot enroute to Vancouver General Hospital. It was this tragedy that prompted the the mines and a non-political committee to fight for better, and safer road access in and out of the Bridge River Valley. This was accomplished with the help of then Minister of Highways, the Hon. Phil Gaglardi and the Committee chairman, Floyd Rowlands, Managers of the two mines, Don Matheson and Monty Montgomery, Cy Manning, and the men of the mines.
18
Red Menhinnick and Tom Illidge Sr. at work on the new road.
1954
The new road from Mission Dam to the Moha Trail at Yalakom, near Lillooet, B.C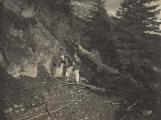 19
The construction of the new road through to the Moha trail at Yalakom was begun in the fall of 1954.
21
The next two frames mark the progress of the construction of the new road. The project was finished in October, 1955 and was done with equipment and men provided by the two mines, and under the supervision of a government engineer.
23
The Moha Road near completion.
1954
The new road from Mission Dam to the Moha Trail at Yalakom, near Lillooet, B.C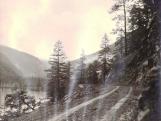 24
The construction of the Terzaghi Diversion Dam about 1955 to 1957.
1957
Terzhagi Diversion Dam, on highway 40, approx. 30 miles from Lillooet, enrout to Gold Bridge.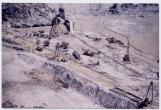 25
The Terzaghi Diversion Dam was under construction from 1955 to 1957 and when completed it developed a reservoir about the capacity of Burrard Inlet in Vancouver. In addition to Mission Dam and the Terzaghi Diversion Dam, a new higher road had to be built along the Bridge River with the upcoming flooding of the Carpenter Lake.
26
One of three views of a lowbed trailer hauling a cat causing the collapse of South Fork Bridge.
10 April 1987
South Fork Bridge, Gold Bridge, B.C. Canada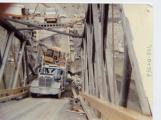 27
Throughout the decades of mining operations in Pioneer, and Bralorne, there was an increase in transportation of freight in and out of the valley.
When any of the arteries of transportation into the valley were put out of commission, the results were usually disasterous. In April 1987 a flat bed trailer carrying machinery fell into the Bridge River at South Fork in Gold Bridge while crossing the span.