1
The Revelstoke Ski Club was officially formed in 1914 with 23 charter members. By 1915, membership was up to 102 and by 1917 there were 300 members in the Revelstoke Ski Club. Membership continued to grow through the years. Much energy was put into the organization of the annual Winter Carnival tournaments: organizing events, procuring judges, prepping the jump and race courses as well as social events: award ceremonies and dances that celebrated the competitors and raised money for the Club. The Ski Cclub worked hard to organize events for youth to encourage participation in the various forms of skiing.
3
1915 was the first Winter Carnival held in Revelstoke. It consisted of cross-country events both men, women and children and jumping events for different classes. The cross-country event for men was nearly 8 miles and the distance for women was two miles (won by Anna Gunnarsen). There were jumping events for boys under 16 and a contest for the Champion of B.C. (won by Nels Nelsen). There were also men's and women's snow shoe races. It cost the Club $200 to stage this first tournament.
4
Line up for the 7 mile race, Winter Carnival
1916
Revelstoke, British Columbia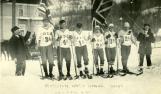 Credits:
Revelstoke Museum and Archives

5
Ladies two mile cross country ski race
c. 1917
Revelstoke, British Columbia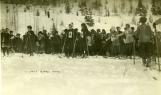 Credits:
Revelstoke Museum and Archives

6
One of the jumping judges at this tournament was a Mr. Iverson, who was an ambassador from Norway, promoting the sport of skiing and giving talks to the Board of Trade (Chamber of Commerce). When in Revelstoke, he looked around with the assistance of Nels Nelsen and found the jumping site on Mt. Revelstoke which he proclaimed to be "one of the finest in the world." This hill became world famous and many world records were set here over the years. The Mt. Revelstoke hill was used for ski jump competitions up until 1975. Originally called the "Big Hill," it also became known as "Suicide Hill" (1931) and later, the "Nels Nelsen Hill."
7
"Revelstoke discovered that it possessed a natural long-distance jumping hill right in the town itself, the equal of any in the ski world. Their great mountainside needed no artificial tower, little grading and had an unlimited approach and run-out and a natural contour. This combination of conditions made possible jumps of over 200 feet, equal to the best on United States hills. Their hill was a freak of nature. No one had ever seen one like it anywhere else." (Percy Douglas, quoted from Powder Pioneers, Chic Scott.)
8
Revelstoke's "Big Hill"
c. 1916
Revelstoke, British Columbia



Credits:
Revelstoke Museum and Archives

9
Work was done on the Big Hill to put it in shape for the jumping events. Very little work had to be done since the natural contour of the hill was perfect for jumping. Some brushing, clearing and construction of cribbing made the hill ready for competition. Since the jump was located in a National Park, a lease was obtained and $1200 was contributed by the City and Chamber of Commerce to help offset the cost.

The Mail Herald in 1916 stated: "One thing is unquestionably demonstrated that Revelstoke has a hill which, with a certain required improvement of outline, has no equal on this continent and under proper weather conditions, not only the Canadian, but the world's record is possible of recording here."
10
Nels Nelsen, Canadian Ski Champion
1916
Revelstoke, British Columbia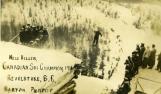 Credits:
Revelstoke Museum and Archives

11
The world records started to be set in 1916, the first year the Big Hill was used for the Winter Carnival when Nels Nelsen jumped 183'. Nels Nelsen won the Championship of Canada Ski Jumping Contest between the years of 1916 and 1920; he held the Canadian Amateur Record in 1920, 1921, 1923, and in 1925 he set a World Amateur Record with a jump of 240' which remained unbroken for 5 years. He held the hill record between 1916 and 1932.

Nels took home the majority of trophies and awards in the jumping competitions between 1916 and 1925. He was truly legendary. Year after year, Nelsen broke records, jumping great distances in sometimes inclement conditions. Both Nelsen and the Big Hill put Revelstoke in the world league.

Nels was revered by the Revelstoke boys. Carl Gunnarsen, in a later interview recalled, "In those days we had little tips on the front of our skis and Nels' skis were starting to chip a little bit in the front, so he put some electricians tape…on his points. So we all done the same thing. We figured that would make us jump better. He'd get pieces of lead and put them either on the front or the back of his skis to get him in the right balance…so we all had lead on our skis. Of course we could never compete against or get as good as Nels --- he was absolutely our idol and a good sport."

12
Nels Nelsen, Revelstoke's ski jumping champion
1925
Revelstoke, British Columbia



Credits:
Revelstoke Museum and Archives

14
By 1921, Revelstoke was truly on the map concerning ski jumping and winter carnival tournaments. It was a world class destination and its moniker was "Capital of Canada's Alps." The tournament in 1921 cost $5800 (up from $200 in 1915) and at this tournament 4 jumping records were broken. 3000 spectators would throng to the Big Hill to see some of the best jumpers in the world compete. The CPR would bring sleeping cars into town, parked along the tracks, for spectators to bunk in, since all the hotels and motels in town were full.