1
Winter:

"The hours of daylight were so short that we always seemed to be in darkness. We had to walk about a mile to school, and it was a cold walk home if there was a north wind off the Athabasca River - and there always seemed to be one."

"Winters were usually so cold that none of us played outside very much. We did slide down the hills on our sled or toboggans but did not skate, as there was usually no skating rink. One year, our teacher Mr. Bean and some of the older boys built a skating rink near the schoolhouse, but this was the only rink that was built, other than the ones we used to make on the river ice. Some years, the snow was cleared from the river for skating, but the lack of volunteers to keep the rink cleared doomed these efforts to failure and the ice was soon blown over again with snow. It wasn't until I finished school that I started playing hockey."

2
School Artifacts: Ice Skates
circa 1915
Heritage Park, Fort McMurray, Alberta, Canada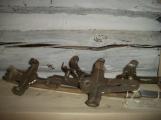 Credits:
Photographer - Sarah Robertson
Fort McMurray Historical Society - Interpretive Items

3
P2008.399.1: McMurray Cubs Hockey Team, circa 1935
circa 1935
McMurray, Alberta, Canada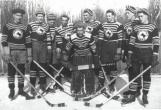 Credits:
Fort McMurray Historical Society

4
Baseball Season:

"Summers were much better for sports in the community. Baseball games between Waterways and McMurray were held on Sundays at The Prairie, which was about halfway between the two villages. We boys played baseball on the diamond we had hacked out by clearing the bush from a vacant lot near Scotty Morrison's house. Well do I remember the pleas of my friends to hurry up and come and play ball when I was hoeing potatoes, but I had to finish my quota of so many rows before I could go out and play. Our ballpark was across from the present Morrison Centre on Franklin Avenue and we played every Saturday. We were all obsessed with baseball. Herman Moldenaure and his brother loved baseball so much they would walk the 3 miles (5 km) from Waterways and return every Saturday just to play a game. The Native boys who came to town during the summer from their winter traplines loved to play as well. I remember them yelling sooky (hurry) to their teammates when they were running the bases. We were always short of equipment, so if one of the boys who owned a baseball glove did not show up, someone would have to play bare-handed. Eventually, we switched to softball, which was becoming popular in the early 1930s. That was when we formed a league with our teams - our team was originally called the Kids, later becoming the Cubs. The other teams in the league were the town teams from McMurray, Waterways, and Airways."

5
P2011.40.11: Boys playing baseball in front of the old school porch, circa 1927
circa 1927
McMurray, Alberta, Canada



Credits:
Stroud Family Collection
Fort McMurray Historical Society

6
P2008.399.2: McMurray Cubs Baseball Team, circa 1935
circa 1935
McMurray, Alberta, Canada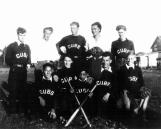 Credits:
Roy Hawkins
Fort McMurray Historical Society

7
Back to School:

"Fall meant a return to school. In my early years I did not enjoy school and, thinking back, I believe it was probably due to a variety of factors: the poor quality of the teaching, the crowding in the poorly heated shacks that were our classrooms, and the inherent difficulty of teaching young children with the limited time the teacher had with eight grades to control. I started school at the age of six in the old United Church building, which was then being used as a schoolhouse after the first schoolhouse, built by the pioneer Presbyterian Minister Rev. Mr. McTavish, had burnt down. This original building was located on a site across the street from the present Peter Pond School. My first teacher, Mr. Perry, was only eighteen years old. He loved to play baseball, so during recess he and the bigger boys always played ball. He didn't last more than a few months."

8
P2011.88.4: Students standing in front of the second schoolhouse just after it was built, circa 1927
circa 1927
McMurray, Alberta, Canada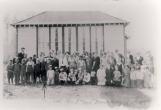 Credits:
Fort McMurray Historical Society

9
Love of Books:

"I don't think I learned very much during my first two years at school. However, I did learn to read after several months of reciting the few lines in the primer that I knew by heart from the illustrations with the text. Being able to read seemed to come suddenly one day. After that I read everything I could get my hands on, including the library of old books that were placed on the floor along the walls of the school, there being nowhere else to store them. These old books, probably brought by the McTavishes to Fort McMurray, were rescued from the original log school building when it burnt down. Among these piles of books were many volumes on old Greek mythology, and I avidly read these whenever the opportunity arose."

10
School Artifacts: P992.6.1b: The Alexandra Readers First Book
1914
Heritage Park, Fort McMurray, Alberta, Canada


Credits:
Waterstreet Family
Fort McMurray Historical Society

11
School Artifacts: P996.3.1: The Thirty-Nine Steps, by John Buchan
1942
Heritage Park, Fort McMurray, Alberta, Canada


Credits:
Stewart Family
Fort McMurray Historical Society

12
Bullying:

"I did not enjoy my first years at school. I especially didn't enjoy the bitter cold days of winter when it was an ordeal to trudge through the snow to school, only to shiver in the poorly heated schoolhouse until the wood stove finally warmed up the building. Added to this was my fear of Donald Sharp, who was older and bigger than me and used to bully all the younger kids. He used to lie in wait for me and if Ronnie Morrison wasn't with me, he would beat me up. There was one other person I was afraid of - a girl! She was a feisty, black-haired girl named Ruby who would come at you like a wildcat if you did anything to incur her displeasure..."

13
Mr. Bean:

"When I advanced to grade three, my desire to learn was awakened when a special teacher arrived. His vitality, vivacity, and interest in me changed my outlook entirely. He must have seen my potential and pushed me to achieve. He was a wonderful teacher and I grew to love him. Under Mr. Bean, I seemed to find myself and lapped up everything I could find. He had me skip two grades, from grade three to grade five. I was happy to be promoted but wasn't so sure it was a good thing for me in later years, when I found myself a couple of years younger than my classmates in high school.

"Mr. Bean revolutionized the school system in Fort McMurray. He persuaded the school board to hire another teacher and to separate the lower grades from the higher grades. As a result another building was obtained for grades five to eight - Fred Parker's shack across the street from the United Church building. Parker was a trapper who was always out on his trapline during the winter. The shack was so small and the seats were jammed together so closely that there were no aisles and we had to climb over several seats to get to our own. The old stove also took a long time to heat up the inside of the building, which meant that in winter we usually had to keep our parkas on until it was warm enough to doff them.

"Mr. Bean's powers of persuasion extended beyond the town's school board. He also persuaded the Burton brothers, Gene and Milton, to attend school even though they were in their twenties… It was also Mr. Bean who brought the first movies that most of us had ever seen to Fort McMurray..."