1
Rocky Mountain House was the end of the road west, literally, until local businessman Ernie Ross and a group of friends set out to prove that a car could be driven west of Rocky Mountain House to the Saskatchewan River Crossing and the Banff -Jasper Highway. Ernie Ross was certain that a road needed to be built, but proving the need to the Alberta provincial highways department in the late 1920's and the 1930's was a struggle. The minister of highways told Mr. Ross that the terrain was too rough, and Ernie claimed that he could already drive a motorcar out to the Banff -Jasper Highway. The minister replied that if you can do that, we will build the road.
It is noted that Ernie Ross had sold fifty automobiles - he had the Ford dealership in Rocky Mountain House - to residents of Nordegg by the 1930's, even though they had only 2.5 miles (4 km) of road to drive on. The cars were shipped to Nordegg by train. Mr. Ross' optimism must have been contagious.
The first trip west of Rocky Mountain House was taken in 1928 and Ernie Ross and Bill Bradshaw and a few others drove to Saunders, 64 km west of Rocky. In 1931, the Trail Blazers along with Mary Ross, Ernie's daughter, accompanying the group, made it to Nordegg in three and a half days, arriving at 2:30 in the morning after running out of gas.
During the summertime, groups of volunteers brought together by Mr. Ross would go out and build pole bridges over the little creeks, and do whatever basic roadwork they had time to do. Although government money was in short supply during the Depression, relief camp workers did more road construction on the road west of Nordegg in the 1930's.
In 1940, the Trail Blazers group included Ernie Ross, Captain Teddy Brett, Bill Ellenburgh, Magnus Oppel, and Bill Schierholtz. They made quick time to Nordegg, and then onto Windy Point, where the progress over the rocky, treed country was done bit by bit, as the Trail Blazers cut down trees, and used block and tackle to pull their vehicles up steep ridges. It took the Trail Blazers five days to clear the way to get to the Saskatchewan River Crossing from Windy Point. The truck axle broke on some rough ground.
One of those days was spent on a parts run to Banff for a new axle, and the fellows were quite hungry and cold after arriving in Lake Louise after midnight. Captain Brett had promised everyone a steak dinner, but the restaurant owners closed the doors to this dirty, unkempt bunch. After figuring out that they could sleep in the train station, the group was walking towards the station when Magnus noticed a light on in a house, and he was drawn to the light, looking for warmth. When he knocked on the door, he startled the lady of the house, who had fallen asleep over her needlework, and she screamed. Her scream woke her husband, and he was ready to protect her from the stranger at the door, but she realized that Magnus was in need of help. That lady and her husband asked the entire group to come in and she fed them sandwiches, and made lots of hot coffee for them.
After returning to Rocky Mountain House via the established highway from Banff to Calgary, the Trail Blazers' success was celebrated with a dinner back in Rocky Mountain House hosted by the Board of Trade (forerunner to the Chamber of Commerce).
Survey work for the David Thompson Highway was completed in 1968, and the highway was opened officially in 1975. Ernest Ross passed away in December of 1963, but had a mountain named after him. Mount Ernest Ross can be seen from the Kootenay Plains, and is 8 km towards Banff National Park from the Cline River parking lot.
In the summer of 1980, seven volunteers from the Rocky Reunion and Historical Society built a rock cairn at Whirlpool Point to honour the Trail Blazers.



2
The Trail Blazers ready to leave Rocky Mountain House in 1941
October 1941
Rocky Mountain House, Alberta, Canada


Credits:
Rocky Museum

3
A New Trail is Blazed in the Rockies!!
By Freeda Fleming
Courtesy of the Ad-Viser Shop-O-Scope
July 30, 1975
Red Deer, Alberta

Mr. Ross had formed a dream, or seen a vision, or had an inspiration when he came to this area as a young man, (and he was one of our pioneer settlers,) and he never gave it up. He wanted an all weather road built west from Rocky. In 1928 we had 20 miles of dirt road west to the Horburg corner - no further. He persuaded Bill Bradshaw to join him in an effort to hack a trail through to Saunders, another 20 miles, and drive a car through. They did it. Three years later in October he, his daughter Mary, John Gillis, Bill Ellenburgh, and David Koetchan *, took two cars, all the spare tires and food and gas they could carry, and in 5 days forced their way through to Nordegg, 50 miles west of here. The people of that bustling mining town turned out to give them a wild welcome. This was the first time any vehicle had covered this route. The people of Nordegg had only one link with the outside world - the 3- times a week mixed train service.

* Other accounts list Jack Kochem as a participant in the 1931 trip to Nordegg.
5
The Trail Blazers crossing the North Saskatchewan River on the ferry. Bill Fisher sitting in truck.
20th Century, Circa 1941
Rocky Mountain House, Alberta, Canada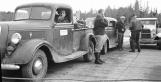 Credits:
Rocky Museum

6
Imperial Oil Gas Station at Saunders, Alberta
1950-1960
Saunders, Alberta, Canada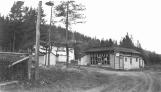 Credits:
Rocky Museum

7
The Trail Blazers reach the Reed's Highway Service Garage at Nordegg, Alberta
1940 - 1950
Nordegg, Alberta, Canada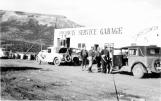 Credits:
Rocky Museum

8
A New Trail is Blazed in the Rockies!!
By Freeda Fleming
Courtesy of the Ad-Viser Shop-O-Scope
(continued)
In 1940 Mr. Ross then master minded a plan to go through to Nordegg on the newly completed dirt and gravel road, and on to Windy Point another 25 miles, then blaze a wilderness trail on through another 40 miles to link up with the recently completed Banff-Jasper Highway at Saskatchewan River Crossing. Taking 2 vehicles, a Ford truck and vintage Chevrolet Coupe, he (Ernie Ross), Teddy Brett, Bill Schierholtz, Magnus Oppel and Bill Ellenburgh accomplished this monumental feat in 10 days and returned via Banff and Calgary. These men are the ones we have always spoken of as the original Trail Blazers, and the record of their venture reposes as history in the files of all the major newspapers of Western Canada, and even in some American ones and one London one.
11
Trail Blazers on the Kootenay Plains, circa 1946
20th Century, Circa 1946
The Kootenay Plains, Alberta, Canada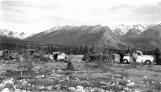 Credits:
Rocky Museum

12
Bridge over the Siffleur River, with Excoelis Mountain behind
1950 - 1960
The Kootenay Plains, Alberta, Canada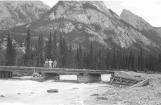 Credits:
Rocky Museum

13
A New Trail is Blazed in the Rockies!!
By Freeda Fleming
Courtesy of the Ad-Viser Shop-O-Scope
(continued)
The next year (1941) they (The Trail Blazers) enlarged their party, adding Stan Hooker, Mr. F. D. Shaw, Federal member for Red Deer Constituency, Charlie Bruce and Father MacKenzie. Their vehicles were a 10 year old International truck, a model A Ford car, and Bill Ellenburgh's faithful old silver Chev that had gone the whole way the year before. They had power and clearance but there were no such things as 4-wheel drives and winches in those days. They had block and tackle, axes and shovels, and lots of man power. (Also the power of prayer. Why else had they taken Father MacKenzie?) Ten days later they were met at Saskatchewan River Crossing by George Brewster from Banff who had brought out emergency supplies of tires, gas, food and spare parts. These were needed as they were wet, cold, hungry, weary but triumphant. One car was limping along with a radius rod improvised from a tough sapling and some bits of wire, and some hand hewed slats taking the place of broken springs.