1
C. C. Farr
1871
Haileybury, Ontario, Canada


Credits:
The Life of Charles Cobbold Farr 1851 - 1914 (Autobiography)

2
Although the focus of our exhibit is the town of New Liskeard, one cannot forget to acknowledge the important role that the first Haileybury settler played in the history of New Liskeard.

Charles Cobbold Farr was born in England in 1851 and immigrated to Canada in 1871. In 1873, he was among a surveying party in northern Ontario, which stopped at the Hudson's Bay Post at Fort Temiskaming, for a three-week rest. His interest in the Hudson's Bay Company was piqued and he was offered employment with them later that year.

After learning the business at Fort Temiskaming, C.C. Farr was sent to work at the fur trading fort at Kippewa for nearly ten years. In 1883, he returned to Fort Temiskaming and while working there until 1889, he purchased land on the west bank of Lake Temiskaming, in the site where the town of Haileybury now stands.
In fact, Mr. Farr named his settlement Haileybury, after the college he attended in England.
3
Promotional pamphlet
1893
Haileybury, Ontario, Canada


Credits:
Temiskaming Shores Public Library Archives

4
So enthusiastic was he, about the potential for agricultural settlement in the Little Clay Belt, that he wrote a pamphlet in 1894, describing in glowing terms the "soil, climate and agricultural capabilities" to be had in northern Ontario. This pamphlet was distributed throughout southern Ontario and Britain in an effort to encourage pioneers to the area.
5
Mr. Murray, Miss Beavis, and Tom McCamus
Early 1900's
New Liskeard, Ontario, Canada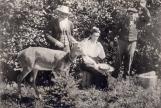 Credits:
Temiskaming Shores Public Library Archives

6
Also members of land survey parties in northern Ontario in 1887 and 1889, William Murray and Irvin Heard were so impressed with this area of northern Ontario that they returned in 1891 to lay claim to farm lots of 320 acres each. Murray claimed the land at the mouth of the river and Heard claimed the lot to the west of Murray's on the north side of the Wabi River. By winter, 1891, both men had cleared some land and built log homes.

In 1892, William Murray's half-sister, Charlotte Beavis joined him but the tiny settlement on the banks of the Wabi River remained sparsely-populated until 1894. In that year, John Armstrong of Novar, Ontario was appointed Crown Lands Agent. He purchased land (on behalf of a syndicate of businessmen from Huntsville) from Murray's holdings on the south side of the Wabi River, on which to live and to set up his office. Armstrong's four children and his wife along with William Murray's other half-sister, Catherine also joined the settlement in 1894.
8
The "Huntsville Syndicate" consisted of James Sharpe, Henry Stevens May, George Paget, and John Armstrong. Except for John Armstrong, none of the other gentlemen lived in New Liskeard but lived, worked, and prospered in the Hunstville area. However, they did invest capital in the surveying and clearing of land for future sale in the Wabi River settlement and for this role in the town's history, streets are named after them.

The original homesteaders hadn't named their settlement although it was known as the "Wabi River Settlement" because of its location, until in 1894, George Paget (of the Huntsville Syndicate) decided that the tiny community should be named "Liskeard" in honour of the British birthplace of his friend and business partner, Henry Stevens May.
9
Sketch of Townships (North)
Circa 1880's
North Eastern Ontario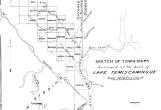 Credits:
Dymond: One Hundred Years in the Making

10
With Armstrong's appointment as Land Agent in 1894, promotion of the Little Clay Belt began in earnest. The six-mile-square townships which were available for sale were subdivided into sections of 640 acres, half-sections or "lots" of 320 acres, or quarter-sections of 160 acres. Applicants were entitled to a quarter-section at a price of fifty cents an acre. One quarter of the price was payable in cash, and the balance was payable in three annual instalments, with interest at 6%.
11
Sketch of Townships (South)
Circa 1880's
North Eastern Ontario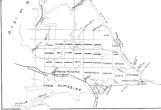 Credits:
Dymond: One Hundred Years in the Making

12
The conditions of sale stipulated that "the purchaser had to be living in a bonafide residence on his land within six months of the land purchase; the residence had to be at least 16 feet by 20 feet in dimensions; the purchaser had to cultivate at least ten percent of the area of land and had to reside thereon for three years."

By 1894, it was apparent (at least to Armstrong) that the Wabi River Settlement (Liskeard) would make a prime location for a town site which would become the threshold to the farmlands of the Little Clay Belt and the commercial centre for the district!
13
New Liskeard's First Post office
1896-1902
New Liskeard, Ontario, Canada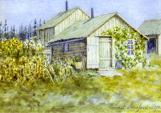 Credits:
Temiskaming Shores Public Library Archives
Ernest Sawford-Dye

14
Robert West from Thornhill, Ontario, arrived in Liskeard about 1894. He built a home on William Murray's land, which later became the settlement's first post office (1896).