1
Isabella Hardisty Lougheed

Isabella "Belle" Hardisty was born in 1864 to fur trade royalty, Hudson's Baby Company Chief Factor William Lucas Hardisty and Mary Ann Allen. Both parents were of mixed-blood Cree ancestry, making Isabella herself a Metis woman.
With the death of her father, Belle lived with her uncle, Richard Hardisty, also a highly placed HBC executive, and a Canadian Senator. In 1884, Belle married an ambitious young lawyer, James Lougheed, and they settled in the growing town of Calgary. In 1889, Senator Hardisty died, and James Lougheed was appointed to his seat.

As a Conservative, Sir James served as Senate House leader and as a cabinet minister in the administration of Sir Robert Borden. He was knighted as Sir James Lougheed in 1916, and his name remains as the only Albertan ever so named. As such, Belle became "Lady Belle", and was a civic organizer in her own right, founding the Southern Alberta Pioneer and Old Timer's Association, and scores of social improvement organizations.

Lougheed's career was illustrious, and contributed many business and cultural institutions to Calgary, including the Lougheed Building, a prestigious office complex where many western political movements had their formation. The attached Grand Theatre was the cultural centre of a growing city, and attracted many famous stars of the stage and early cinema to play.

The family contributions continued long after the death or Sir James and Lady Belle, with their illustrious grandson, Alberta Premier Peter Lougheed. The few items in this collection were donated to the collection of Fort Whoop-Up National Historic Site by Trish Anderson, a descendant of Belle Hardisty.

2
Hudson's Bay Company Blanket - "Akaisatstaa"
Circa 1960
Fort Whoop-Up National Historic Site



Credits:
Gord Tolton

3
Hudson's Bay Company Bag - "Skinittsimaan" (bag) "Akaisatstsaa" (HBC blanket)
Circa 1930s
Fort Whoop-Up National Historic Site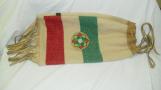 Credits:
Quinn Pereverseff

4
Shawl Neckline Pieces - "Isttohksaan"
Circa 1880s
Fort Whoop-Up National Historic Site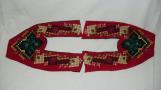 Credits:
Quinn Pereverseff

6
Beaded Purse - "Soohpommaa'tsis"
Circa 1880s
Fort Whoop-Up National Historic Site



Credits:
Gord Tolton