1
Competition in the Mine Leagues was tough, but Lake Shore Mine owner Harry Oakes wanted a hockey team worthy of winning the Allan Cup - a national trophy awarded to the national senior amateur men's hockey champions in Canada. The Allan Cup was donated by Sir H. Montagu Allan in 1908, and is still competed for to this day as the top prize for amateur men's hockey in Canada.

Lake Shore Mine manager E.W. Todd put together a solid management for the Kirkland Lake Blue Devils' 1939-40 season. With C.C. "Doc" Ames as manager, Lex Cook as player-coach, and their cast of all-star players, the team had a spectacular season.

2
Lake Shore Blue Devils - team photo
Circa 1940
Kirkland Lake, Ontario, Canada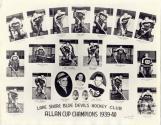 Credits:
Hockey Heritage North Archives

3
The Blue Devils went on to win the Eastern Division and took on the Calgary Stampeders of the Western Division. The championship was held in Toronto, Ontario, where the Blue Devils defeated the Calgary Stampeders in three straight games to capture the Allan Cup.

The win was not only a victory for the team and the Lake Shore Mine, but it was celebrated by all of Kirkland Lake and much of Northeastern Ontario. The return trip to Kirkland Lake was made by train, with stops in many communities along the way. Residents came out to greet and congratulate the Blue Devils on their success.

4
C.C. "Doc" Ames - Lake Shore Blue Devils Manager
Circa 1940
Toronto, Ontario, Canada



Credits:
Hockey Heritage North Archives

5
Lex Cook - Lake Shore Blue Devils Player-Coach
Circa 1940
Toronto, Ontario, Canada



Credits:
Hockey Heritage North Archives

6
Bill Durnan - Lake Shore Blue Devils Goalie
Circa 1940
Toronto, Ontario, Canada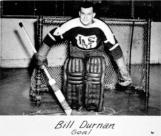 Credits:
Hockey Heritage North Archives

7
Zeke Ferley (Ferly) - Lake Shore Blue Devils Goalie
Circa 1940
Toronto, Ontario, Canada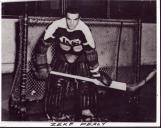 Credits:
Hockey Heritage North Archives

8
William "Blink" Bellinger - Lake Shore Blue Devils Centre Player
Circa 1940
Toronto, Ontario, Canada



Credits:
Hockey Heritage North Archives

9
Bobby Walton - Lake Shore Blue Devils Right Winger
Circa 1940
Toronto, Ontario, Canada



Credits:
Hockey Heritage North Archives

10
Al Campbell (Cambell) - Lake Shore Blue Devils Player
Circa 1940
Toronto, Ontario, Canada



Credits:
Hockey Heritage North Archives

11
Alex Duff - Lake Shore Blue Devils Player
Circa 1940
Toronto, Ontario, Canada



Credits:
Hockey Heritage North Archives

12
Dick Kowcinack - Lake Shore Blue Devils Left Winger
Circa 1940
Toronto, Ontario, Canada



Credits:
Hockey Heritage North Archives

13
Doug Boston - Lake Shore Blue Devils Player
Circa 1940
Toronto, Ontario, Canada



Credits:
Hockey Heritage North Archives

14
Frank Stahan - Lake Shore Blue Devils Defense
Circa 1940
Toronto, Ontario, Canada



Credits:
Hockey Heritage North Archives