1
Port Moody's Late 20th Century Schools

As the city grew throughout the 20th Century, Port Moody's neighbourhoods needed new schools. In this presentation we will showcase Coronation Park Elementary, Seaview Elementary and College Park Elementary. These are but a small example of the many schools built for the bustling city of Port Moody.
2
Coronation Park opening ceremony poster showing the school trustees and staff.
24 April 1964
Coronation Park School, Port Moody, BC, Canada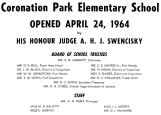 3
Opening ceremony of Coronation Park Elementary School.
24 April 1964
Coronation Park School, Port Moody, BC, Canada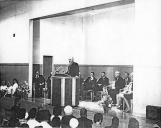 4
Judge Swencisky Opens

Coronation Park Elementary School opened on April 24th, 1964. The school was officially opened by Judge A. Swencisky for the first Principal Mr. Alf Kent.
7
The School for a Subdivision

Coronation Park Elementary takes its name from the subdivision it serves. Over the years the school has offered Kindergarten through to Grade 7.
9
Seaview School Opens

In 1967 another elementary school was opened by Mr. W. Guy Flavelle, son of the mill owner Aird Flavelle. The first principal at Seaview was Mr. Lawrence Lloyd.
11
Seaview Today

Seaview Elementary now educates students from kindergarden to grade 5. Growing in the schoolyard there is also a memorial garden to former student David Stanton.
12
The College Park Elementary School official opening ceremonies program.
7 June 1972
College Park Elementary School, Port Moody, BC, Canada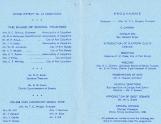 13
Going to College...

On June 7th, 1972 College Park Elementary School opened. It was opened by the Canadian Broadcasting Corporation's urban affairs commentator Michael Crampton. Ronald B. Howard, the architect, was in attendance to present the keys to Principal Margaret Morgan.
14
Division 1, 2, 3 and 4, College Park, 1972.
1972
College Park Elementary School, Port Moody, BC, Canada