7
Memorial erected in remembrance of father F. X. Lafrance, first pastor of Tracadie
1842
Tracadie, New Brunswick, Canada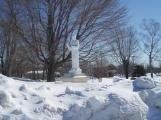 8
Acknowledgement of the disease by the Province of New Brunswick

Father Lafrance arrived in Tracadie in early 1842. He immediately noticed that a large number of people suffered from a strange sickness that they called "la maladie"; "the sickness". He had himself studied medicine before joining the priesthood. He decided to inform the provincial government about the dangerous state of the disease that was taking hold of his parish. At the request of the government, he wrote a report to the province's Lieutenant-Governor in which he stated that this disease was similar to leprosy tuberculosis which had spread rampantly through Europe in the 18th century. Lazarettos had been constructed to stop the disease; hence, he suggested that a lazaretto be built in Tracadie and that an annual subsidy be granted for its upkeep.
He also asked that a committee be named with the authority to quarantine <!-SCT-->the sick suffering from leprosy. He obtained that which he seeked in the creation of a "Bureau of Health" which was the first of its kind in the province and in Lower Canada. Its members, Joseph Cunard, president, François-Xavier-S. Lafrance, chaplain and Charles J. Peters, received the authority to find a site that could welcome the sick of the region.