1
The original settlements of Haileybury and New Liskeard, both on the western shoreline of Lake Temiskaming, became the central nodes to which people arrived by steam boat and then by railway. Many other villages and town emerges, some to serve the agricultural and forestry industry. Others had their origins linked to the quest for silver. The great silver strike of Cobalt established mining in the north. As the T. & N. O. Railway pushed northward, communities grew up along the line. By 1909, gold mining claims were staked in Porcupine and Timmins as well as Larder Lake and eventually Kirkland Lake. The pulp and paper industry in the U.S. created a huge demand for pulpwood. All of these were factors in town growth.

A map will show how the towns tend to follow the railway whether along the main north south line or the spur lines created to serve the mining industry. In between, the agricultural areas naturally evolved their small villages of a few people with a post office and a few stores. The pattern of urban development was then firmly established.
2
The Wabi River location becomes New Liskeard
c1902 - c1916
Wabi River & Bay, New Liskeard, Ontario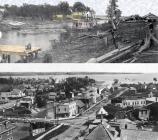 Credits:
LCHM

4
New Liskeard, Haileybury and Cobalt by electric streetcar
c1910
Haileybury (City of Temiskaming Shores), Ontario.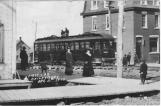 Credits:
LCHM

6
Cobalt - the world?s greatest silver mining camp
c1910
Cobalt, District of Temiskaming, Ontario.



Credits:
LCHM
Map: Marilyn Hawirko

8
Elk Lake - on the western edge of the Claybelt
c1910
Elk Lake, District of Temiskaming, Ontario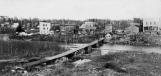 Credits:
LCHM