1
Before the Claybelt was even known to exist, a Hudson?s Bay Company factor, Charles Cobbold Farr began to dream about agricultural settlement on the Ontario shoreline of Lake Temiskaming. His initial ideas resulted in his booklet on the agricultural possibilities of Temiskaming. It is a concise overview of conditions on the Ontario side. One of its virtue?s is the honest and even blunt way Farr presented facts and figures.

Soon after, in 1900 the Ontario government sent out ten survey parties to cover Northern Ontario. One of this conclusions was the verification that a huge area of clay belt existed and a large area of it would support an agricultural settlement, much like what was already established across Lake Temiskaming in Quebec.
2
A dreamer and a doer - C. C. Farr
1896
District of Temiskaming, Ontario, Canada



Credits:
Norman R. Hawirko

9
The head of the Matabanick Trail - Haileybury
c1902
Haileybury (City of Temiskaming Shores), Ontario.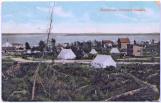 Credits:
LCHM

14
The land from the train - after 1904
1967
Lake Temiskaming, Ontario



Credits:
ONR Archives, North Bay Museum