1
The background of the first settlers and business people of South Temiskaming inherited thirst for education from their British heritage. Schools were built immediately to properly conduct classes. The province played the role of overseer. The local one room school served its purpose as it did in other parts of Canada but the distances between communities and especially the high school in New Liskeard were not prohibitive. Some students could board in town but all could return to farm homes on time off.

The Carnegie Public Library in New Liskeard still serves in its original role and is one of the few old stone buildings in the area. The limestone was quarried off an island just off the shoreline of Lake Temiskaming.
3
A lonely school building
2008
Dymond Township (Temiskaming Shores),District of Temiskaming, Ontario.



Credits:
Norman Hawirko

5
McCool School - Kerns Township
20th Century, Circa 1910
Kerns Township, District of Temiskaming, Ontario



8
Carnegie Library in 2009 - an enduring legacy
1910
New Liskeard (City of Temiskaming)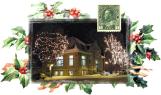 Credits:
Norman Hawirko