1
It was simple to understand; wood was plentiful. At first, an axe and saw were tools that would allow a settler to build a basic log cabin or even just a lean-to. Trees, were large enough to make a good house log. Some built elaborately and large enough to go beyond the cabin classification. Others built carelessly or only with enough attention for temporary stays while clearing their lot. A large family, of course, required the most space but it is surprising how small some houses were built. Everyone had to cram into available confines including the loft space. The latter could become exceedingly hot if the stove downstairs had to be kept up during very cold winter nights.

The photos in this section only provide a simple impression of the sheer variety of architecture in the north where buildings standards came late and anyone could throw up basically what they liked in a building according to their means. Houses in the towns could range from shacks to very elaborate brick mansions equal to what could be found in Toronto.
6
Out to Matachewan - Moyneur?s original cabin
1920 - c1930s
Matachewan, District of Temiskaming, Ontario.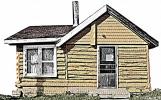 Credits:
Norman Hawirko