1
In January 1960, there was a column in the Revelstoke Review stating how it was difficult to get local skiers interested in jumping. Even though Revelstoke staged one big tournament a year (The Tournament of Champions) and maybe one or two smaller ones through the '50's and '60's, the popularity of jumping was declining. From the competitors' point of view, the Nels Nelsen Hill was a lot of work. Work was required to prepare it and keep it in condition. There was no lift to the top, so everyone needed to walk. And for any jumper training in Revelstoke both of these considerations added up to the fact that it wasn't possible to get good training in... too much time was spent working on the hill preparation or walking to the top. From the Hill Captain's point of view, there was about 3 weeks getting the hill ready for a 2-day tournament. This meant phoning a large number of volunteers and cajoling them into helping with the arduous work.

Televising of the jumping events also took its toll on the numbers of people who attended the tournaments. People could just stay home and watch the show on TV. There was a decline in spectator numbers.

Coupled with this, the popularity of downhill skiing had soared. Youth had much more fun riding a lift and swooshing down, whether gates were involved as in the slalom or in pure downhill, there was much more appeal. Fewer youth were turning out for jumping training or coming up to the hill to jump for fun.

While energy was going towards the jumping competitions, attention of the locals and ski club turned towards downhill opportunities. In 1961, a new 1600' poma lift was installed on Mt. Revelstoke with a vertical drop of 535' and carrying 575 people an hour. Shortly after, in 1963 a new rope tow was officially opened. The rope tow, along with the poma created a large recreational skiing area that catered to downhill, slalom and instruction. Both the poma and rope tow had night skiing available.

2
Poma lift on Mt. Revelstoke
1961
Revelstoke, British Columbia



Credits:
Revelstoke Museum and Archives

3
Opening of the ski tow, Mt. Revelstoke
1963
Revelstoke, British Columbia



Credits:
Revelstoke Museum and Archives

5
The Trans Canada Highway opened in 1962 and this bisected the lower slopes of Mt. Revelstoke. Even though the lifts had been moved up on the mountain near the Nels Nelsen jump, there were constraints simply from the fact that the ski area operated within the National Park and there were limitations to growth. Responding to this, Paul Mair, who had recently come to town from Grouse Mountain, and previously Austria, saw great potential on Mt. Mackenzie, a mountain to the south of town with a 6000' vertical relief. With his partner, local logger Don Sinclair, they opened a ski hill on Mt. Mackenzie on Boxing Day of 1963. Though there were some disgruntled skiers in town with this competitive move creating another ski area, it only made sense since growth was impossible on Mt. Revelstoke.
6
Paul Mair, President, Mt. Mackenzie Ski Developments
late 1960's
Mt. Mackenzie, Revelstoke, British Columbia



Credits:
Catherine Sinclair

7
Donald Sinclair, loading the T-Bar, Mt. Mackenzie
mid 1960's
Mt. Mackenzie, Revelstoke, British Columbia



Credits:
Catherine Sinclair

8
Paul ran the Austrian Ski School and gave free lessons for youth. Donald built all the tows: an 800' rope tow the first year, then a bunny rope tow the second year and by 1966 a 2500' T-Bar was installed.
10
In 1969, Mt. Revelstoke Winter Sports amalgamated with Mt. Mackenzie Ski Developments. Running the downhill area on Mt. Revelstoke wasn't feasible anymore, so the poma lift was sold to Mt. Mackenzie and moved. This move spelled the death knell of skiing on Mt. Revelstoke. Though Parks had agreed to the hill being open for jumping tournaments, fewer people were interested, especially since there was no tow on the hill. There were moves to procure a tow for Mt. Revelstoke but liability issues put a stop to that. As well, the jumping tournaments of 1971 and 1972 had been a financial disaster and the jump had been difficult to prepare in 1972 due to too much snow.

The Revelstoke Ski Club was given space in the chalet at Mt. Mackenzie from which to operate their club and the ski club did maintain separate divisions for downhill, slalom, cross country and even jumping for a while. There were brief thoughts of trying to revive the jumping tradition on Mt. Mackenzie but they never came to fruition. In 1973, there were downhill and slalom races held on both Mt. Mackenzie and Mt. Revelstoke.

11
Slalom skier, Mt. Mackenzie
late 1960's
Mt. Mackenzie, Revelstoke, British Columbia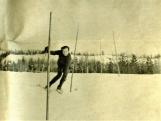 Credits:
Catherine Sinclair

12
There was lots of action on Mt. Mackenzie in terms of growth. In 1973, there was discussion about a helicopter run from the top of Mt. Mackenzie. Blake Franklin had the contract to log on Mt. Mackenzie and he quickly saw the potential that Paul Mair and Donald Sinclair had seen: that a ski run off the top of Mt. Mackenzie would give 6000' vertical feet of skiing… longer than any run at that time. Blake logged a road to the top and also logged the 5 mile downhill run from the top which became known as the "Powder Downhill" with races being held on this run through the mid-1970's. Blake could take people to the top in his "Tucker Snow Cat" or people could take a helicopter to the top. At the time, this was the longest ski run in North America. By 1977, helicopter skiing had started; 4 people paying $25 each could get a lift to the top of the mountain with a glorious 6000' of vertical awaiting them. Or if there was bad weather, the "snow bus" could take them to the top.


13
Helicopter skiing, Mt. Mackenzie
late 1960's
Mt. Mackenzie, Revelstoke, British Columbia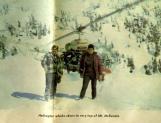 Credits:
Catherine Sinclair

14
Ski racing developed on Mt. Mackenzie with the Nancy Greene league for youth and the Molstar Series for amateurs. The Molstar Series was started in 1973 and encouraged intermediate to advanced skiers to race the open giant slalom. The course was 20 or more flagged gates on a moderate course and the racer's time was measured relative to a "best time" that was set earlier that day by a professional. The times were rated to within a certain percentage of the "best time" and in this way scores could be standardized across the province.
Also at this time, the Pontiac Cup Series of races was instigated. These races were slalom and giant slalom and were designed to prepare competitors for the World Cup and Olympics.