1
War in Korea . . .

The war in Korea began on June 25,th 1950 when North Korea began an invasion crossing the 38th parallel into the Republic of Korea. This war marked the first major outbreak of violence since the United Nations formation at the close of the Second World War. The United Nations declared this overt act of aggression a "breach of peace" and sanctioned a campaign to halt the hostile advance.

Of the 16 United Nation countries which participated in the Korean War, Canada's contribution was eclipsed only by the Unites States and Great Britain, both of which have significantly larger population bases. This was the first time Canada would answer the call of the United Nations starting a long, proud, tradition of service for peace and freedom.
2
Experience in Korea

Renald Boudreau was born to Edgar Boudreau and Julia Guite in Maria, Quebec. His father, Edgar, worked on the railroads, a profession his sons would ultimately follow. In 1950 and 1951, with the introduction of the diesel engine on the Gaspe Coast, there was less work available on the railways. During this work shortage, Renald Boudreau saw an army recruitment poster and decided to volunteer for service on the 2nd of December 1950 with the 25th Brigade. Shortly after enlisting, Renald Boudreau was one of only 300 Canadians selected to be assigned to the Special Forces and was sent to Fort Lewis in Washington for three months of training before being sent overseas.

At Fort Lewis, Renald Boudreau was trained to read maps, operate a wireless 18 radio, drive tanks, trucks, and motorcycles. He immensely enjoyed this training period in Washington. The Special Forces trained at Fort Lewis were divided among existing units upon arrival in Korea. While in Korea, Renald served as the radio operator, advance guard and map-reader of the 3rd battalion, 2nd Regiment leading the others forward undercover of night. He also performed in several forward observation maneuvers during his time in Korea.
4
Renald Boudreau
20th Century, Circa 1990
New Richmond, Quebec, Canada


Credits:
Bay Chaleur Military Museum

5
Royal 22nd Regiment, 3rd Battalion, Signals Platoon
22 March 1951
Maria, Quebec, Canada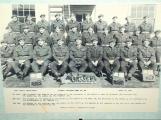 Credits:
Bay Chaleur Military Museum