1
The landscape of Temiskaming is composed of the boreal forest with rock outcrops, rivers, lakes, streams and marshland to break up the mass of trees. The Little Claybelt in South Temiskaming is like a huge bowl in the forest. The Montreal, Wabi and Blanche rivers are major feeders to Lake Temiskaming which is actually the head of the Ottawa River.

All these waterways and more were part of the First Nation travel network that later were used by everyone coming into the district.
The First Nation people in the canoe were bringing a coffin to the ?Indian? cemetery in Elk Lake. The map background shows the First nation hunting terrritories as defined by Speck, an early anthropologist.
2
Hooper?s Rock defines the edge of the Claybelt
2007
Hudson Township, District of Temiskaming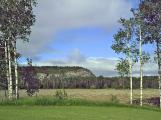 Credits:
Norman Hawirko

4
First Nations hunting territories
1900s photo
Elk Lake, District of Temiskaming, Ontario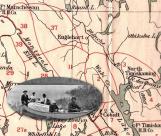 Credits:
Elk Lake Museum