1
With the building of a gold mine also comes the building of a community. Through the great years of the gold mining era in the Bridge River Valley, company businesses were formed, like the cookhouse, the company store, the post office and drug store. As the community grew, so did the need for services such as the hospital, medical clinic and the volunteer fire department. The mine built bunkhouses for the single miners and houses for married workers. Several small townsites such as Honeymoon Hollow, Coconut Grove and Poison Flats to name a few, were arranged along the main road through town.
2
Main Street Bralorne 1938 showing The Company Store, the Cookhouse Restaurant and Bunkhouse.
1938
Main Street, Bralorne 1st Townsite, Bralorne, B.C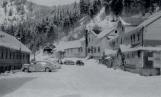 3
Main Street Bralorne in the winter of 1938 shows a fully functioning and prosperous townsite.
4
The company owned Cookhouse Restaurant, 1938.
1938
The Cookhouse Restaurant, Main Street, 1st Townsite, Bralorne, B.C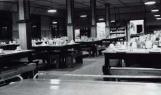 5
The Cookhouse Restaurant in the 1st townsite was company owned and its primary function was to feed the miners. It also provided a separate dining room for management and the public. The Cookhouse was famous for providing great food for many years.
7
The Cookhouse bakery and the Cookhouse kitchen with ample working spaces, were able to provide the much revered quality food and baked goods to the community.
10
With the growing community came the need for policing in the valley.
11
Bralorne Consolidated School Buildings, 1950.
1950
Bralorne Consolidated School buildings, 2nd townsite, Bralorne, B.C.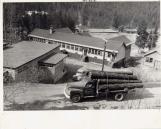 12
Also necessary in the growing community was education. The earliest classrooms were held in the No. 1 bunkhouse until class sizes became too large to accomodate. At this point, makeshift classrooms were set up in the community hall. By 1942 the Bralorne Consolidated School was in place in the 2nd townsite. A highschool, extensions to the elementary school and an annex were also in place. By 1959 the school gymnasium was built and less than a year later, the gym burned to the ground and was not replaced due to the dwindling school population.
14
The B. C. Telephone Company had an office in the 1st townsite. The telephone customers grew steadily to over 200 lines by the the 1960's. There was an outside crew that worked on land lines but in the winter, there was also a need for specialized equipment such as the snowmobile to get the crew over deep snow banks to buried lines.