1
By 1928 the Lorne Mine was incorporated and a company town was being formed. In January, 1930 the mining broker Stobie Furlong and Company ran into trouble and under investigation of the market, declared bankruptcy. Financing on the Lorne Gold's projects was gone and without new investment the project was doomed. At stake was the money spent that resulted in 60,000 tons of ore with proven good value. By mid January 1931, $95,000. was still outstanding and the Lorne group would be lost if the shareholders did not pay by end of January. Through extraordinary shareholder meetings February 4, and later in March of 1931, an offer was finally accepted with Bralco Development and Investment Company which would form an new company with the Lorne shareholders retaining an interest. Bralorne Mines Limited was incorporated April 22, 1931.
3
Austin Taylor, the principal of Bralco was a financier and industrialist. He owned one share short of fifty percent of issued shares and the remaining shares were owned by his associates. Ira Joralemon was a mining consultant based in San Francisco who was brought in to evaluate the property. His results were favourable and he was confident that Taylor's Bralorne gamble would pay off and that there was great potential for a multi-million dollar mine. R. Dick Bostustow was recommended by Joralemon for the manager position and together this team created the beginning of the Bralorne Mines era.
4
Some of the mine workers in front of the Bralorne Mines Adit in 1938.
1938
Bralorne Mine, Bralorne, B.C. Canada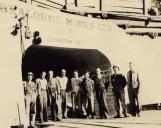 5
Progressively through the years, the mine was worked at the King vein, the Wedge vein and the old Lorne workings with favourable results starting in 1933. By 1935 Bralorne and Pioneer mines had working crews of 320 and 280 respectively. Both of the mines' money was enough to sustain the Bridge River Valley's economy in these years.
6
Two miners underground, using stoper and inspecting rock wall.
1949
Underground tunnel near Bralorne Mine

7
Mining the gold bearing quartz veins in the area involved many stages. These included sinking shafts, driving tunnels, crosscuts to veins, drifts along veins to sample gold values and stoping ore between levels. Finally, lowering it by chute to level below, tramming to the shaft and hoisting it to the surface for milling. In the following years new engineers arrived and new equipment and methods were used.
9
Pipefitters provided compressed air and water for the drills. Ventilation crews provided fresh air for breathing as well as clearing out powder fumes after the blasting. Timbermen took care of the timbering and train crews handled the ore on main haulage levels. There were also hoistmen, surveyors, samplers, skiptenders, electricians, geologists and supervisors rounding out the complex operations of underground mining.
10
Mucking Gear used from the early 1940's to 1970's
1970
Bralorne-Pioneer Museum Mining Equipment display, Bralorne, B.C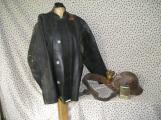 11
In preparation for going underground the shift crew changed to their diggers or work clothes in "the dry", a large room equipped with lockers, showers, and an overhead rope and pulley system for hanging clothes. For illumination underground, the men used the open flame of a carbide lamp clipped to a bracket on their hard hats. Water, controlled by a simple valve, dripped onto the carbide and ignited by flint and wheel, created acetylene gas. The gas burned until all the carbide had reacted,(about 45 minutes) and then had to be filled again. In late 1936 carbide lamps were replaced with electric lamps at both the Bralorne and Pioneer mines. Powered by a wet battery worn on a special heavy leather belt, they produced better light and lasted up to twelve hours between chargings.
13
From 1931 to 1961 Bralorne removed most of the gold from the ore by the amalgamation and flotation process. Any remaining gold was obtained by shipping the flotation concentrate to a smelter in Tacoma, Washington. In 1961 the mill was replaced by a modern cyanidation plant and with this process the mine was able to extract all the gold on the property.