2
Hundreds of years ago, Cree and Sioux Indians lived in the area. The legend goes that the Indians hunted buffalo and fished in the lake called Manito Sakahigan, meaning "the lake of a spirit". Such a name was given to many more bodies of water in the West by Indians who did so because of some legend or dream. The White people of the time translated the Cree name as "Devil's Lake", most likely because of it being roundish and surrounded by some hills and some forest, and it becoming choppy and dangerous at a moment's notice. Many are those who have drowned in its waters over the decades.

In 1842, Father Thibault, who created the permanent Mission of Lake Ste. Anne, renamed the lake "Lac Ste. Anne", honouring his promise to his patron saint Anne.

In 1912, the Canadian Northern Railway built the railroad to what is now Alberta Beach. It brought its employees out for company picnics and holidays. By 1920 they had incorporated the area as a summer village, built a dance pavilion, a large walking pier, and a campground. Other companies such as Marshal Wells and Woodwards then began to bring their employees and their families out for the same relaxing and beautiful atmosphere.

There was such a demand for this atmosphere that the "Moonlight Express" was started. CNR picked people up in Edmonton on Saturday evenings, took them to Alberta Beach, and then picked them up again Sunday night to take them back to Edmonton. Soon people began purchasing and building their own cabins and small businesses. The Summer Village of Alberta Beach has now become a Village of over 850 year round residents and swelling to over 3000 over the summer season. The tranquility and beauty of the lake still draws admiration and provides relaxation and recreation to those who come to enjoy the area.
5
Map of Modern Day Alberta Beach
1990s
Alberta Beach, Alberta, Canada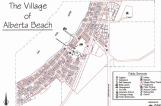 Credits:
New Era Municipal Services

6
Village Office Grand Opening
1969
Main Street, Alberta Beach, Alberta, Canada



Credits:
Alberta Beach & District Museum & Archives Society