1
The railway opened up Alberta Beach and promoted it as a tourist site. Beginning in 1912, the CNR began bringing out its employees and families out to Alberta Beach for relaxation and recreation. Soon, the company was also running special excursions to Alberta Beach for large companies, such as Woodwards and Marshall Wells, to treat their employees to a day at the lake. On the weekends, a special train called the Moonlight Special brought people to Alberta Beach. To keep picnickers well occupied, the railway constructed some entertainment facilities for them to enjoy, including a 950 foot walking pier, a dance pavilion, and a campground.

The pier was lit up by coal oil lamps in the days before there was electricity at the Beach. These lamps were lit up every night during the summer months.

In 1936, the railway ceased running trains to Alberta Beach and it had no further interest in the village. The pier was taken over by the federal government who still own it today. In the early 1940s, during ice break up, the end of the wooden pier was extensively damaged. Shortly thereafter, the government did a major reconstruction of the pier and shortened it to its present day length. Concrete was also poured on the end of the pier at this time.

In 1999, the federal government informed the village that they were divesting themselves of all piers, wharves, etc. across Canada, including ours at Alberta Beach. They offered to sell the pier to the village or a non-profit society for the sum of one dollar. The Friends of Lac Ste. Anne Pier Society was formed to preserve this historical landmark. Fisheries and Oceans has informed us that if it is not financially feasible for either the village or the non-profit society to take responsibility for the pier, it will be sold to the private sector. If that fails, it will be demolished. In 2007, the fate of the pier is still undetermined.


2
Bathing and Strolling
1919
Main Beach, Alberta Beach, Alberta, Canada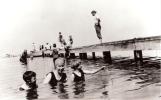 Credits:
Alberta Beach & District Museum & Archives Society

3
Fun on the Pier
Early 1930s
Main Beach, Alberta Beach, Alberta, Canada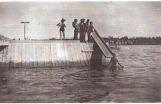 Credits:
Alberta Beach & District Museum & Archives Society

4
Launching Boats from the Pier
Main Beach, Alberta Beach, Alberta, Canada



Credits:
Alberta Beach & District Museum & Archives Society

5
Main Pier
1935
Main Beach, Alberta Beach, Alberta, Canada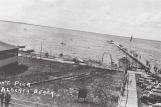 Credits:
Alberta Beach & District Museum & Archives Society

6
Sitting on the Pier
Early 1940s
Alberta Beach, Alberta, Canada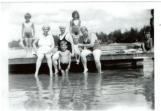 Credits:
Alberta Beach & District Museum & Archives Society

7
Dan Klinkhamer
Main Beach, Alberta Beach, Alberta, Canada



Credits:
Alberta Beach & District Museum & Archives Society

9
Pier and Boat House for Rental Boats
1945
Main Beach, Alberta Beach, Alberta, Canada


Credits:
Alberta Beach & District Museum & Archives Society

10
Ice Cream at the Lake
1920
Main Beach, Alberta Beach, Alberta, Canada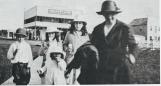 Credits:
Alberta Beach & District Museum & Archives Society

11
Main Pier
1935
Main Beach, Alberta Beach, Alberta, Canada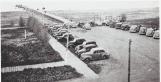 Credits:
Alberta Beach & District Museum & Archives Society

12
Alberta Beach Pier and Surrounding Businesses
1930s
Main Beach, Alberta Beach, Alberta, Canada



Credits:
Alberta Beach & District Museum & Archives Society

13
Handstands on the End of the Pier
1940
Main Beach, Alberta Beach, Alberta, Canada



Credits:
Alice Jamha

14
Float Plane Docked at End of Ruined Pier
1940s
Main Beach, Alberta Beach, Alberta, Canada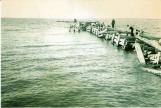 Credits:
Alberta Beach & District Museum & Archives Society