1
United Nations Shoulder Flash
20th Century, Circa 1990's
Caplan, Quebec, Canada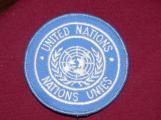 Credits:
Bay Chaleur Military Museum

2
The Birth of United Nations Peacekeeping . . .


On November 4th 1956 a crisis in the Middle East threatened world peace. Mounting tensions between Britain and Egypt led Egyptian President Nasser to nationalize the Suez Canal and bar international access. Despite the fact that peaceful negotiations were already in progress, Britain, France, and Israel mounted an invasion of Egypt to take control of the Suez Canal and easily access the rich oil fields of the Arabian Peninsula. The world community feared that yet another war may be inevitable.

Lester B. Pearson, the Canadian Minister of External Affairs appealed to the United Nations General Assembly to create a new kind of army — a UN Emergency Force composed of troops from neutral nations to entre Egypt, secure a cease-fire, supervise the withdrawal of foreign armies, and act as a neutral armed presence between the warring parties. Within 48 hours the UN assembled its first army of "peace soldiers" and implemented Pearson's innovative and visionary plan. The United Nations Emergency Force of peacekeepers was so successful that they became a permanent force. Lester B. Pearson was awarded the Nobel Peace Prize for his conception of peacekeeping a year later in 1957.
3
Canadians as Peacekeepers

Canada has assumed a leading role in world peacekeeping efforts from the very conception of the idea in 1956 to the present day. Canadians have taken part in peacekeeping ventures all over the world including the Congo, Yemen, Cyprus, Syria, Yougoslavia, Somalia, Haiti, Rewanda, Ethiopia, Eritrea, East Timor, and Afganistan. When the United Nations Emergency Force was awarded the Nobel Peace Prize in 1988 for its numerous achievements and efforts, Canada's contribution to world peace was particularly mentioned and recognized.

Over the past six decades since the inception of the United Nations Peacekeeping Program, more than 125 000 Canadians have served in dozens of international peacekeeping missions in more than 35 different countries.

4
Charles E. LaViolette
20th Century, Circa 1970
St. Omer, Quebec, Canada


Credits:
Bay Chaleur Military Museum

5
Charles-Eugène Laviolette

Charles-Eugène Laviolette was born to Alphonse Laviolette and Éméline Boudreau on October 28th, 1931 in St-Omer. His father worked for Hydro-Quebec as a foreman,. Charles-Eugène lived at 1750, Place Fouquet in Quebec City. He worked on the International Commission of Control and Supervision (ICCS). He spoke many languages, including English, German, Japanese and Spanish. He enlisted for service on January 20th, 1966. He served for 23 years and was stationed in Saigon in Vietnam. He was a member of the Canadian Forces - Land Division of the United Nations Protection Unit. There are two monuments erected to his memory and service, one in Ste-Monqie and one in St-Omer. He was a decorated soldier and was awarded the Canadian Forces Decoration as well as the International Commission of Control and Supervision Service Medal. Charles-Eugène was one of the first Canadians killed in a peace keeper mission. He died in a helicopter crash on April 7th, 1973 at Lao Bas, Vietnam. He was brought home and buried at St. Charles Cemetery in Quebec City.

9
Newspaper Clipping
20th Century, Circa 1973
St. Omer, Quebec, Canada


Credits:
Bay Chaleur Military Museum

10
Pascal Henry

Pascal Henry was born to Philip Henry and Veronique Bernard Henry. His father worked at the paper mill in St. Simeon and his mother at the Scotia Bank. Pascal Henry enlisted in the Royal 22 Regiment in 1989. Once basic training was complete he was sent with his regiment to fight in the Gulf War. After the war Pascal Henry remained in military service working in peacekeeping with the United Nations in Croatia. Mr. Henry currently lives and works in Caplan.
11
Pascal Henry
20th Century, Circa 1990's
Caplan, Quebec, Canada



Credits:
Bay Chaleur Military Museum

12
Royal 22nd Regiment Badge
20th Century, Circa 1990's
Caplan, Quebec, Canada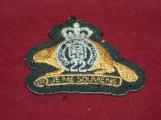 Credits:
Bay Chaleur Military Museum

13
Royal 22nd Regiment Belt Buckle
20th Century, Circa 1990's
Caplan, Quebec, Canada


Credits:
Bay Chaleur Military Museum

14
United Nations Cap
20th Century, Circa 1990's
Caplan, Quebec, Canada


Credits:
Bay Chaleur Military Museum