1
John Macpherson Almond

John Macpherson Almond was born on July 27, 1872, in Shigawake, Quebec, on the Gaspe Coast. His parents were James and Mary Ann (Macpherson) Almond, both of Shigawake. His preliminary education was gained in the provincial schools before entering Bishop's College, Lennoxville, where he graduated with an M.A. as well as a D.C.L. He was ordained September 1897 and began his ministry as a missionary on the Labrador Coast, where he remained until becoming attached to the Cathedral of Quebec City.

When the South African War broke out (the Boer War), Archdeacon Almond was called to act as Chaplain of the 19th Brigade. While in South Africa he took part in twenty-seven engagements. At the close of that war he returned to the Quebec Cathedral, remaining there until September 1901 when he was offered, and accepted, the Rectorship of Gran'Mere, Quebec. On May 18, 1904 he was called to the Rectorship of Trinity Memorial Church, Montreal. When Archdeacon Almond first came to Montreal, "Trinity Memorial" was situated on St. Denis Street and ranked among the oldest Anglican congregations in the city (having been established in May 1840).

In August 1914 Archdeacon Almond enlisted for service in the Great War, and was appointed Chaplain to the 1st Division of Artillery. In 1916 he was given the rank of Major, and a short time later was appointed A.D.S.C., Canadian Corps with a rank of Lieutenant-Colonel. The following year he was named Director of Chaplain Services with the rank of Colonel. Colonel Almond was decorated for his services in France, being named a Companion of Order of St. Michael and St. George (C.M.G.). Immediately following the Armistice, he was made Commander of the British Empire (C.B.E.).

After the War he was appointed Archdeacon of Montreal in 1932. Having previously married Nellie Estelle Beemer on October 30, 1900, the couple were able to settle down and focus on raising their family. They became the parents of three sons. J. M. Almond died in 1939.
3
John Macpherson Almond and his Brothers
20th Century, Cira 1908
Shigawake, Quebec, Canada


Credits:
Gaspesian British Heritage Village

4
The Almond Family
20th Century, Circa 1908
Shigawake, Quebec, Canada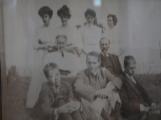 Credits:
Gaspesian British Heritage Village
Bay Chaleur Military Museum

5
John Macphearson Almond's Attestation Paper (front)
22 September 1914
Shigawake, Quebec, Canada


Credits:
Bay Chaleur Military Museum
Archives of Canada (Archivia.net)

6
John Macphearson Almond's Attestation Paper (back)
22 September 1914
Shigawake, Quebec, Canada


Credits:
Bay Chaleur Military Museum
Archives of Canada (Archivia.net)

7
John Macphearson Almond
20th Century, Circa 1920's
Shigawake, Quebec, Canada


Credits:
Gaspesian British Heritage Village
Bay Chaleur Military Museum