1
The Buffalo

The Blackfoot owe their rich culture to the buffalo. Prairie First Nations from Texas to Alberta had for at least 11,000 years depended on the great herds for their survival, and also provided a central focus on their spirituality. It could be argued that the tribes did not just live among the buffalo, but lived like them.

The mobility of the animal dictated the movement of the camp, and survival depended on knowing the herd's whereabouts. The buffalo was a walking commissary, providing both meat that could be preserved, and fresh organ meat that could be consumed as fresh delicacies following a successful hunt.

Other parts of the animal provided the everyday necessities of life. Sinew made for a tough binding string. The bones could be used to make tools and weapons. The stomach and bladder made a water bottle. Horns made drinking cups, hair made for sewing thread, and ribs made sleigh runners. Even the backbone could be uses as a sled.

The most obvious of by-products we the buffalo's own hide. Rough strips made for tough rawhide that could be used as ropes or tough bindings. Tanned by the women, the hide was made into blankets, coats, robes, and general serviceable leather for a multitude of everyday needs.

2
The Buffalo - "Innii"
1995
Fort Whoop-Up National Historic Site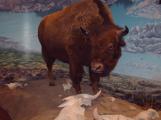 Credits:
Leonard Ross
Alex Pavlenko
Gord Tolton

4
Buffalo Bladder Water Container - "Aayi'sipisaan"
Circa 1880s
Fort Whoop-Up National Historic Site



Credits:
Gord Tolton

6
Bone Cultivating Tool - "Iihtaikkiniihkimimsaakio'p"
Circa 1880
Fort Whoop-Up National Historic Site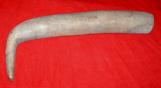 Credits:
Gord Tolton

8
Buffalo Bone Hide Scraper - "Mattsikaan"
1997
Fort Whoop-Up National Historic Site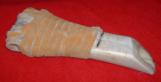 Credits:
Gord Tolton

9
Buffalo Bone Hide Scraper - "Mattsikaan"
1997
Fort Whoop-Up National Historic Site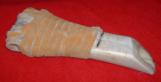 Credits:
Gord Tolton

12
Buffalo Skull - "Ootoki'p"
Circa 1980
Fort Whoop-Up National Historic Site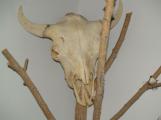 Credits:
Quinn Pereverseff

14
Obsidian Stone Scraper - "Apaksisttohkaksaakin"
Prehistoric
Fort Whoop-Up National Historic Site



Credits:
Gord Tolton