14
Monogrammed front gate
16
Left; Auger
Right; Detail of auger showing forge welding of handle
17
Detail of auger handle showing forge welded "eye" for handle placement
20th century
Main Street, Mossbank SK

19
Decorative screen made of repurposed parts of RCAF Bombing & Gunnery School #2
20th century
Main Street, Mossbank SK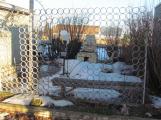 20
Decorative screen on patio of Ambroz house.Built by Frank Ambroz of repurposed salvage from closure of RCAF Bommbing & Gunnery School. This school located just outside Mossbank, trained thousands of airmen during WWII.All that remains of it today are the runways and the backstop from gunnery practice. The Mossbank museum has an extensive collection of artifacts from this facility.
22
Branding iron. Brands were essential for anchers to positively identify cattle belonging to them. It is thought that this was a personal project of Mr. Ambroz as the owner of this brand was too far away to make doing business in Mossbank likely.
25
The prededing two pictures show "decor" that appeared in every blacksmith shop near cattle areas. Because the surface of the iron had to make even contact to properly mark the animal it was tested on the nearest place that would take a mark..the wooden walls of the shop. This method of identification of stock is still in use, but some irons now use cryogenics or extreme cold to mark the animal. Ear tags have largely replaced branding however as it is less traumatic to the animal and offers less risk of infection to the site.