16
In 1963, after another dissapointment in the Grey Cup, Tiger-Cats replaced head coach Jim Trimble with Ralph Sazio, and under his guidance, the Tiger-Cats finished in first place and went to another Grey Cup which was their third consectivive, but not like the previous results, Hamilton was the victor in this game defeating the BC Lions 21-10, claiming their first Grey Cup since 1957.

In the 1964 season, Hamilton finished in first place and returned to the Grey Cup where they played the BC Lions. Hamilton lost the game 34-24.
17
In 1965 Hamilton once again finished first and returned to the Grey Cup. Once again Hamilton faced Winnipeg and much like the Fog Bowl, The weather caused major problems for the game. Dubbed as the Wind Bowl, winds rushed in from Lake Ontario to Exhibition Stadium to cause problems for the players and the officials. It was so bad that the officials decided some of the rules needed to be change for the game. One rule that was change for the game was the kicking rule. When a player kicked the ball, the play would be called dead once the ball made contact with the returner. The wind was so horrible, that the majority of the game had to be played in the east end of the stadium. At the end of the game, the Tiger-Cats defeated the Blue Bombers 22-16.
20
Hamilton's next Grey Cup appearance was in 1967 where they played the Saskatchewan Roughriders with whom the Tiger-Cats easily defeated 24-1 with the help of Clem Turner. With that victory, The Tiger-Cats earned their fifth Grey Cup.
22
In the 1972 season things were different. Under new coach Jerry Williams, Hamilton returned to the Grey Cup facing the Roughriders, in which Hamilton won 13-10.
24
In the 1980s Hamilton made it to playoffs every year in this decade, finishing first four times. Hamilton made it to the Grey Cup in 1980 losing to Edmonton 48-10, losing to Winnipeg 47-14 in 1984, losing to BC 37-24 in 1985, and losing to Saskatchewan 43-40 in 1989. In fact, the Tiger-Cats only Grey Cup victory in the 1980s was during the 1986 season in which they defeated the Eskimos 39-15 in BC place in Vancouver.
25
Hamilton accepting the Grey Cup in 1986.
30 November 1986
BC Place Stadium, Vancouver, British Columbia, Canada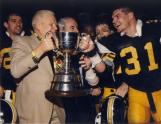 26
In the 1990s, Hamilton failed to reach the playoffs in 1990, 1991, 1994, and 1997.

In fact, Hamilton's only Grey Cup victory came during the 1999 season when they defeated Calgary 32-21 earning their 8th Grey Cup in team history and the last Grey Cup in the 20th century. This Grey Cup was of significance to the Tiger-Cats because they avenged last season's loss to the Stampeders, when they were defeated 26-24 on a last play field goal.