1
The Dykes of Remsheg Bay


For Marshy miles along the shore,

Where ebbs and flows the tidal Stream,

Stands forth a mute but manifest

Memorial to a peoples dream;

Where now but muskrats parth the weeds,

Where mallards nest in salt marsh hay,

There once Acadian kine grew fat

Beside the dykes of Remsheg Bay.

By Francis Grant



Nova Scotia is a beautiful peninsula on the east coast of North America. It is well known as a tourist destination, and often advertised to be "Canada's Ocean Playground."

However, during the summer of 1755 one of the most famous examples of military genocide took place on these beautiful Nova Scotia shores.

Nova Scotia, or as it was then called "Acadia", was the site for what is known by the French as "Le Grande Derangement" and by the English as the "Expulsion of the Acadians". It was the removal of the French villagers; the English burned their homes and then transported the captured French, eventually spreading them along the eastern sea board of North America.
2
Historic Marshland of Remsheg Bay
Acadian Settlement Period. 1710 - 1755
Remsheg Bay, Wallace, Nova Scotia, Canada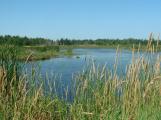 Credits:
David Dewar

3
Mural depicting the French/English conflict during the 17 th and 18th Centuries
Acadian Settlement Period. 1710 - 1755
Acadia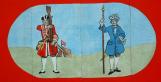 Credits:
Barbara Clark, Artist, Middleboro, Nova Scotia

4
Today, the waters lap peacefully along the shores of Wallace Harbour. Fishing boats and pleasure Craft are moored at the Wharf.

In the late1400's, when European explorers first came to our shores, they found the land was already inhabited by Native Americans called the "Mi'kmaq" people.The Mi'kmaq people had already named this area, now called Wallace, "Remsheg".

Remsheg has been translated to mean "place between" because of the closeness to surrounding Mi'kmaq villages: Pegweak (Pugwash), Malagash, and Tatamagouche.
5
Rich marsh land, once protected by an Acadian dyke
18th Century, Circa 1720
North Wallace Road, Wallace Bay Cumberland County, Nova Scotia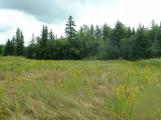 Credits:
David Dewar

6
Map of Nova Scotia in 1755, showing Acadian villages including Beaubasin, Remsheg and Tatamagouche
18th Century, 1755
Acadia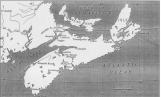 Credits:
Wallace and Area Museum

7
Natural marsh grass, rich from centuries of decaying vegetation
21st Century. Circa August 2010
Brown's Bay, North Wallace, Cumberland County, Nova Scotia.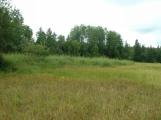 Credits:
David Dewar

8
Mural of Acadian Settlement in Nova Scotia, by Barbara Clark
18th Century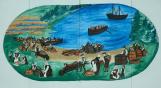 Credits:
Barbara Clark, Artist

9
Beginning in early 1700, French settlers called "Acadians", began to settle in the Remsheg area. Their farming methods included dyking the fertile marshlands to plant their crops. Their dykes are some of the few remaining symbols of these hard working people.

Ownership of Nova Scotia changed hands several times between France and England while the Acadians remained on these lands.

In 1748, a treaty was signed between France and England giving England ownership of most French lands in Nova Scotia. Britain became uncomfortable with British lands being inhabited by French farmers.

In 1755, the British Governor Lawrence, with aid from New England soldiers, decided to remove the Acadian farmers from Nova Scotia and disperse them along the eastern seaboard of North America. On August 15, 1755, soldiers arrived in Remsheg (Wallace). They captured the inhabitants and burned their houses. The Acadians were taken to Tatamagouche where the Acadian men voted to leave the women and children there. The men were marched off to Cobiquid (Truro), gradually getting back to Fort Cumberland in Amherst.

Eventually they were loaded on ships to be scattered among the American colonies.
10
Mural by Barbara Clark showing Acadian farm life of 1700 - farming and building a dyke using oxen
21st Century, Circa 2005
Wallace and Area Museum, Davison /Kennedy property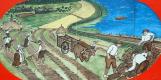 Credits:
Barbara Clark

11
Image of Fort Lawrence, present day Amherst, in 1755
18th Century, Circa 1755
Fort Lawrence, Cumberland County, Nova Scotia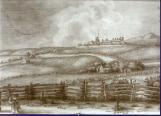 Credits:
Wallace and Area Museum

12
1750 map of Nova Scotia, clearly showing the Chignecto to Cobiquid road (Amherst-Truro)
18th Century. Circa 1750
Acadia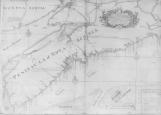 Credits:
Wallace and Area Museum

13
Acadian expulsion orders being carried out in Remsheg
15 August 1755
North Wallace Road, Wallace Bay Cumberland County, Nova Scotia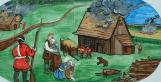 Credits:
Barbara Clark