15
2nd CMRs on a 'Princess' ferry going to Vancouver Island.
December, 1914
Probably Vancouver, BC, Canada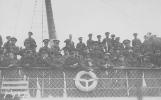 16
Staff of the 2nd CMRs at Willows Camp, at the Victoria exhibition grounds.
1915
Victoria, BC, Canada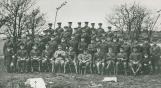 17
The Okanagan unit contributed officers and men for Headquarters (HQ) and two full strength squadrons while the VIS contributed the third squadron for a total of 544 all ranks. The 30th BCH continued to exist as a Militia unit throughout the war. It provided reinforcement drafts for the Canadian Expeditionary Force (CEF) and guarded the German, Eastern European "Illegal Aliens" and Prisoners of War (POWs) interned in a camp established in the Vernon area late in 1914.
18
2nd CMRs marching in the mud at the exhibition grounds converted in Willows Camp.
December, 1914
Willows Camp, Victoria, BC, Canada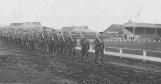 19
The 2nd CMRs remained in tents in Victoria throughout the winter of 1914/15. They traded in the colourful uniforms of the 30th BCH for the khaki tunics, breeches and putties. However, they continued to be organized and to train as cavalry.

Early in May 1915 the monotony of training was broken when a German submarine torpedoed and sank the British liner SS Lusitania off the Irish coast. There was great loss of civilian life, including one James Dunsmuir of the Vancouver Island mining dynasty, who had resigned his commission in the 2nd CMRs to enlist in a British regiment. The sinking infuriated the people of Victoria such that some of them vandalized premises belonging to or patronized by, those of German descent. Mounted patrols from the 2nd CMRs soon restored order and calm in the city.
20
The 2nd CMRs march past during a Brigade inspection.
1 January 1915
Willows Camp, Victoria, BC, Canada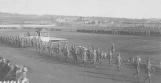 21
2nd Canadian Mounted Rifles commanded by Lt. Col. Bott.
1 January 1915
Willows Camp, Victoria, BC, Canada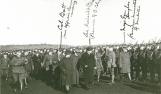 24
Kit and tack is laid out in standard fashion when in the field overnight.
1915
Near Sidney, BC, Canada