2
Statistics: lepers
Treated in New Brunswick (1815-1965): 327

Treated by the Religious Hospitallers (1868-1964): 180

Buried in Sheldrake Island (July 19, 1844-July 25, 1848): 15

Buried in the founders' cemetery: 94

Buried in the cemetery near the church of Tracadie (1880-1898): 42

Buried in the lepers' cemetery: 59

Buried in the 4 cemeteries: 210

Lepers: cured, released and returned in their country or buried elsewhere: 117
4
Julie Savoie 1860-1927

A victim of leprosy in search of freedom

Julie Savoie, daughter of Justinien and Julie Arseneau, was born May 15th, 1860. She noticed the first signs of leprosy on her young body in 1877. Knowing full well that her fate was to be a slow and painful death coupled with a forced quarantine at the lazaretto, Julie managed to hide all signs of the disease for many years until she decided to exhile herself. She was only found 12 years later in Levis, Québec.
Her disease was then in its terminal phase. She was admitted into the lazaretto March 26th, 1906. She was locked in her room because "we feared that she would attempt to escape (...) also because she had an unpredictable disposition".

Upon her arrival in Tracadie, <!-SCT-->Julie was administered chaulmoogra oil treatments. This was the only remedy used at that time to fight against leprosy's symptoms. Doctor Langis noticed the irreversible effects of the disease and made mention of her amputations during her fist examination.
Her parents had died, she had no home, thus she remained at the lazaretto until she died of a heart attack on July 19th, 1927.
5
Sheldrake Island Bernard, called Barnabé, young boy buried in the Island
1844
Sheldrake Island, New Brunswick, Canada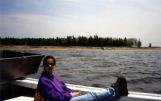 6
Bernard, called Barnabé Savoie, 1836-circa 1848

Bernard Savoie, better known as Barnabé, was born in Neguac, December 22nd, 1836, son of Victor Savoie and Françoise Landry. When he was 8 years old, Barnabé disembarked on Sheldrake Island from a rowboat along with his mother Françoise, his two brothers and 17 sick others, July 19th, 1844.
The family of Victor Savoie was considered, for that time, to be well-off. Victor , Barnabé's father, was a farmer and owned wooded lots. Their house was of a good size and always well-kept. But, much like their compatriots, leprosy was ravaging their family. Françoise was the sister of the first victim of leprosy: Ursule (Landry) Benoit, daughter of Anselme Landry and Marie Brideau. Her grandfather was Alexis Landry , one of Caraquet's pioneers.
The sick at Sheldrake Island's lazaretto lived in such unhealthy conditions, that those who could excape, did. Stanislas, Marin <!-SCT-->and their young brother Barnabé were amongst the fugitives. Françoise had died. The three Savoie brothers made their way to Neguac. The laws at that time forbidded anyone to hide lepers with penalties going from heavy fines to imprisonment. Victor, their father, suggested to Stanislas and Marin that they hide in the woods near their house. Victor kept Barnabé at home because he was a little too young. Dr. Robert Bayard of Saint John(N. B.),government investigator, wrote in 1849: "Victor Savoie the Bureau of Health and his constable had come to his house and had removed by force his son Barnabé. They had tied him up and when Victor tried to save him, the lazaretto's officers pointed a pistol to his chest thus forcing him to submit".
Investigator Bayard and Wilson found Barnabé in a very poor state during their visit to Sheldrake Island in 1847. He was breathing with difficulty. His face and body were covered in sores. He probably died shortly after as <!-SCT-->he was not among the 15 survivors that were transferred to the new lazaretto in Tracadie in 1849.
7
To the memory of Jean Baptiste, son of Marguerite Robichaud
1845
Sheldrake Island, New Brunswick, Canada



8
Marguerite Robichaud, 1813-1897

Marguerite Robichaud, third child of François( to Jean) Robichaud and of Marie(to Firmin) Savoie of Tracadie, was baptized in Bartibog, November 5th, 1813. She married Jean Baptiste Saulnier, son of Pierre(to Joseph) Saulnier and of Marguerite Savoie July 16th, 1832. Her first child, Israël was born May 17th, 1833. Marguerite felt the first symptoms of leprosy after the birth of her second child, Luc, born October 24th, 1838. Suspicious spots appeared on her cheeks, nose and forehead. She lost all feeling in her fingers. Their extremities ended up falling off.

Shortly after a subsequent birth on July 19th, 1844, Marguerite, accompanied by her newborn, Jean Baptiste, entered the lazaretto on Sheldrake Island. 18 other patients had been transported there, three of which were her brothers. She stayed there for 5 <!-SCT-->years.

She was released after a treatment by Charles Labillois, new doctor at Tracadie's lazaretto. Her daughter, Lucille, born July 23nd, 1854, was only 9 when symptoms of leprosy appeared on her body. Marguerite kept her daughter home until the arrival of the nuns at the lazaretto in 1868. Marguerite's husband, Jean Baptiste, died March 13th, 1876.
Marguerite was taken in by her son, Luc, who had married Elizabeth Benoit. She stayed there until 1880 which is when she was re-admitted in to the lazaretto. She was 67. It's likely that she returned there because she had nowhere to stay as there are reports stated that the disease had re-infected her. She died May 22nd, 1897 at 83 years of age.
10
Rev. John E. Davis

John E. Davis was born in Wicklaw, Ontaio in 1858. He became a pastor in the Baptist Church after his studies. He married Laura Lockhart and they decided to become missionaries for India in 1887. John E. Davis contracted leprosy during their 17 years of service. He would live isolated with his family for 6 years on their farm so he could watch his children grow. He asked to come to the lazaretto in Tracadie after his wife died in 1910, so he wouldn't be a burden to his children. He became a patient November 26th, 1910 and was accompanied by his brother.

In his letters to his family, he spoke of life at the lazaretto, of his doctor, Dr. Langis, of pastor Richardson, and of his good friends, as well as the care given by the nuns. Sister Pitre took charge of his correspondance during his last years as he'd gone blind. Dr. Davis died <!-SCT-->April 29th, 1926. As it was his dying wish, he was buried in his native village in Ontario.
12
Sisters Marie Pitre and Marguerite Maillet caring for the sick with two young girls affected by leprosy
14
Sister E. Allard and two lepers, circa 1920

Sister E. Allard and two young girls with their dolls. The girls were infected with leprosy.

Sister Allard had worked at various tasks at the lazaretto and at the hospital.