14
Dr. Gordon Robertson served as Bralorne's M.D. from 1953 to 1961 and in that time he supervised the building of the nurses' residence and a medical clinic. He was succeeded by Dr. Hashimoto in 1962.
15
Dr. P. Ashmore was hired by Pioneer in 1959 and worked in the Bralorne Hospital until 1960.
1959
Pioneer Hospital, Pioneer Townsite


16
Dr. P. Ashmore served in Pioneer from 1959 to 1960 and shared the Bralorne Hospital for surguries and emergency care when needed as Pioneer Hospital was not equipped with an operating room.
17
Alva Lucille Warden at graduation from Royal Columbian Hospital Nursing Sept. 1953
September, 1953
Royal Columbian Nursing Hospital, New Westminster, B.C


18
The Bralorne Hospital occasionally saw great loss through the years. One such case was the young nurse who graduated from nursing college only the month before she was assigned at Bralorne. Her name was Alva Lucille Warden and she was elected to accompany an injured miner to Vancouver General Hospital for treatment that Bralorne was not able to provide. The plane crashed enroute at Cheakamus Mountain near Squamish with no survivors.
19
'' Ma '' Waddell, Matron of Bralorne Hospital from 1955 to 1960.
1957
Inside Bralorne Hospital Corridor, 2nd Townsite, Bralorne, B.C. Canada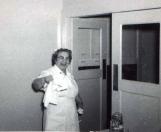 20
"Ma" Waddell was the matron of Bralorne Hospital for many years from early 1950's through early 1960's.
21
John Schmidtbauer in 1956 after attack from Grizzly bear.
1956
Bralorne Hospital, 2nd Townsite, Bralorne, B.C


22
John Schmidtbauer was a young german miner who came to Bralorne with his brother Peter to work in the mine. One outing turned disasterous when he met with a grizzly bear in the woods and came out alive but with flesh wounds to his back, shoulders and neck. Managing to fight off the mad bear and crawl away to a nearby road where he was found by hunters, he was taken to hospital and treated for his 62 grizzly toothmarks and from then on carried the nickname of "Grizzly John".
23
Utensils used in Bralorne Hospital from 1933 to it's closure in 1960s
24 November 2004
Bralorne-Pioneer Museum Health and Medical display, Bralorne, B.C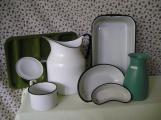 24
Some of the utensils and tools that are on display in the Health and Medical Exhibit were found in and around the Bralorne Hospital after it's closure in the late 1960's.
25
Maternity ward name card from Bralorne Hospital nursery
24 November 2004
Bralorne-Pioneer Museum Health and Medical display, Bralorne, B.C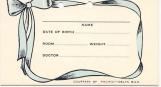 26
Shown in this frame is a Maternity Nursery Name card used in Bralorne Hospital until it's closure in the 60's.
27
Hospital Nursery metal crib from Bralorne Hospital in use from 1930's to 1960's.
24 November 2004
Bralorne-Pioneer Museum Health and Medical display, Bralorne, B.C